NEWS - 2014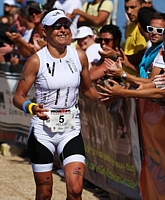 Dutch Champion Duathlon in Powerman Horst - link

3rd in Meaux - link

A new year with new opportunities - link
---
Dutch Champion Duathlon in Powerman Horst - 14 April 2014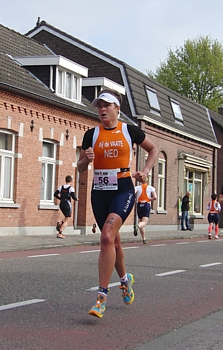 The season has started! For this year I defined 3 races as my A races. And the first one was this weekend, the EC/NC duatlon long distance in Powerman Horst, The Netherlands. The result: National Champion and 6th in the European Championships!
The preparation went well. I had two good training weeks in March on Fuerteventura with our Trivio Long Distance team. It's much nicer to train with others than to do everything by yourself. Besides that it can make you and the others stronger when you train together. When I got home I did some real good key sessions for Powerman Horst. From these sessions I got some self-confidence back. I knew that the real speed for running wasn't there yet, but that a time under 1 hour on the first 15 km was possible.
Despite my race experience, I started to doubt a little bit last week. Because of the rest before the race last week, all the fatigue came out of my body. It felt like I became worse and worse everyday. But of course this is the way a taper works. If you do it right you will feel good on race day! And it was like that. When I started my warming up, my legs felt as if they were ready to race.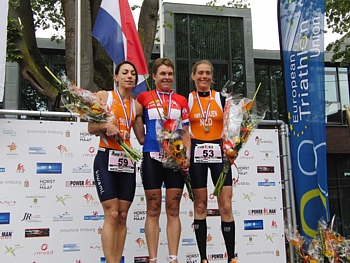 The race itself went exactly as I planned. The first run I wanted to run steady and then the plan was to attack on the bike. The first loop of the bike I had to warm-up a little (I'm a diesel), but in the next two loops I made up some time on most of the women in front of me (except for European Champ Jenny Schultz, who had the fastest bike split). I'm very happy with my bike level for this moment. In the last run the real aggressive style was gone, but I tried to keep my rythm. I made up quite some time on the number 5 in the EC, but came short 3 seconds on the finishline. This is a nice boost for the start of the season! - top
3rd in Meaux - 8 March 2014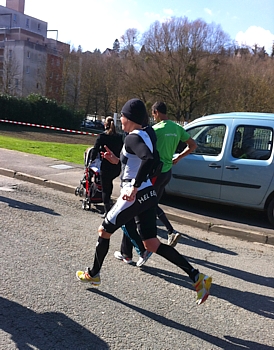 Spring has arrived. Today it will be 17C! I love this season, when you are running through the forest you slowly see the trees turning green. During my rides I smell the fresh blossom. By being outside you feed your body with energy. Then I'm really happy that I'm a triathlete.
Last weekend I did the duatlon of Meaux. It's a race close to where I live over the short distance, 6,5 km run-25 km bike-2,5 km run. This race was meant to get some race rythm for the upcoming goal the European Championships Powerman in Horst in 6 weeks. It was a steady race, but I'm not happy with my run at the moment. I'm looking for my running legs, but I haven't found them yet. But I keep seeking, I'm sure I will find them. The bike was good, and got me into 3rd place at the end.
Within a week I'm leaving for Fuerteventura. We organized a trainingcamp with the Trivio Long Distance Team over there (see the link to our new website below). I'm very much looking forward to it. It's always nice to train together, espacially when you normally train a lot by your self. We will push each other and make each other stronger!
Link: www.longdistanceteam.com - top
A new year with new opportunities - 18 january 2014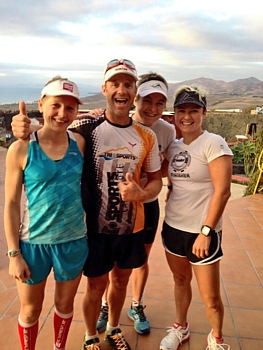 Itís already 2014, so itís time for new plans. Last year didnít go as I hoped for. A stress-fracture made me not run as much as I wanted. Luckily this time has gone by and I have all confidence for the future now. I have taken a longer break than I am used to, and since the end of December I have started to rebuild my basis. Iím fit and have made nice plans. Itís going to be a year with nice goals and challenges.
Before talking about my race plans I would like to update you about our ladies-only triathlon team, called Long Distance Team. Besides competing in the ďEredivisieĒ league (a circuit of 5 top level short distance races in The Netherlands), we have further build and grown our team and we will now much more be competing together also in the other races we are racing. Iím looking forward to it! Soon the sponsors will be announced and the new website will be launched. So stay tuned!
At this moment Iím at my favorite trainingspot, at Trisports Lanzarote. And I am definitely not the only pro training in Lanzarote at the moment. Iím working hard to get a good base for the rest of the season. Unfortunately the weather is not as it used to be. I have had 3 out of 5 days with rain since I have arrived. But the temperature is much nicer as it is back home. The only thing is that you have to clean your bike every dayÖ
Talking about my race schedule then, Iím very excited by the fact that this year both the European Championships long distance duathlon and triathlon are hosted by races in The Netherlands. The first race where I want to peak are the European Championships (and Dutch Championships as well) Powerman duathlon in Horst. The other two peak races for this season are full distance triathlons: the Challenge Roth and the European Championships (and again Dutch Championships as well) Challenge Almere. Besides I will do some Eredivisie races like the Dutch Championships on the Olympic and Sprint Distances and of course I will start in the half triathlon of Stein (my former home race). I hope itís going to be a nice year and I hope that I stay injury free!
Link: www.trisportslanzarote.com - top